Natural Molecules In Longevinex® Formula (Resveratrol, Quercetin, Vitamin D) Key To Successful Superlongevity.
In recent years longevity seekers have become enthralled with the idea of maintaining the end caps of their chromosomes, called telomeres) to live successfully past the age of 100.  Now researchers say control of chronic low-grade inflammation is predictive of healthy aging and telomere length is not. [Ebiomedicine Aug 5, 2015]
When super-longevity is passed on to children of super-centenarians they do so via control over low-grade inflammation that results in telomere maintenance – at age 80 their telomeres are like 60-year olds. [Medicalxpress Aug 5, 2015]
Chronic low-grade inflammation is associated with risk of death, loss of mental capacity and loss of independent living.
Researchers conclusively show that chronic inflammation is what drives telomere shortening which is evidenced by a decline in hand grip strength. [Calcified Tissue International July 2014]
While aging is accelerated by a chronic state of low-grade inflammation, the Mediterranean diet reduces markers of inflammation. [Nutrients April 2015]
Centenarians who are healthy and maintain independent living are characterized by chronic inflammation balanced by anti-inflammatory molecules.
Two primary markers of inflammation that increase with advancing age are tumor necrosis factor (TNF) and interleukin 6. [Revista de Investigación Clínica July 2009]
What has been observed is that aging is accompanied by low-grade chronic inflammation characterized by an inflammatory factor called tumor necrosis factor (TNF) that induces T-cell (white blood cells produced in the thymus gland) to cease duplication (called cellular senescence).  [Nature Reviews: Molecular Cellular Biology Sept 2007; Age June 2013]
Widely studied components of the Mediterranean diet which work together synergistically are now believed to exert control over chronic inflammation.  The most widely studied molecules in the Mediterranean diet believed to be responsible for control over inflammation are resveratrol (wine), quercetin (wine, onions) and vitamin D (sunshine).
Quercetin and resveratrol were found to exhibit superior anti-inflammatory action, namely inhibition of TNF and interleukin 6, among 21 natural compounds tested.  [Journal Agriculture Food Chemistry Jan 2011]  Quercetin exhibits TNF inhibition to a greater extent than resveratrol. [American Journal Clinical Nutrition Dec 2010]
The anti-inflammatory properties of resveratrol are, in part, responsible for the heart-protective properties of the Mediterranean diet. [American Journal Physiology Heart Circulatory Physiology Oct 2006]
In laboratory animals low-dose resveratrol (105-158 milligrams human equivalent dose) inhibits inflammaging (inflammation + aging) [Age Sept 2011] Excessive doses are counterproductive.
Quercetin and resveratrol together exhibit synergistic anti-inflammatory action. [Journal Proteome Research Oct 2012]  More is accomplished via molecular synergism than increasing the dose of resveratrol.
A decline in vitamin D levels accompanies the aging process and is also associated with elevated inflammation.  [Biological Research Nursing Jan 2010]
Among remarkable findings of the study published in EBiomedicine were that a large percentage of Centenarians were still semi-independent and living outside a nursing home (67.3%) at age 100-104 when about 1 in 5 80+ years olds are institutionalized.  Almost 1 in 5 super-centenarians (over age 110) were still living outside of a nursing home.
Markers of inflammation (C-reactive protein, interleukin 6 and tumor necrosis fact0r-TNF) rose with advancing age but there were obvious counter-controlling factors in the diet.  ©2015 Bill Sardi, ResveratrolNews.com
Biological Characteristics Of Centenarians & Their Offspring

 

Very Old

Centenarians

Offspring

 

85-99

100-104

105-109

110+

Children Of 100+

Unrelated family

Nursing home

0.4%

32.7%

68.0%

81.8%

—

—

Hemoglobin

12.5

11.3

11.2

11.6

13.8

13.3

Inflammatory marker

C-reactive protein

0.09

0.16

0.25

0.21

0.07

0.07

Inflammatory marker

Interleukin 6

1.69

2.86

3.31

3.30

1.03

1.13

Inflammatory marker TNF

2.19

3.36

4.91

4.53

1.37

2.02

Telomere length

3322

3045

3387

3399

3871

3773

Source: EBiomedicine August 5, 2015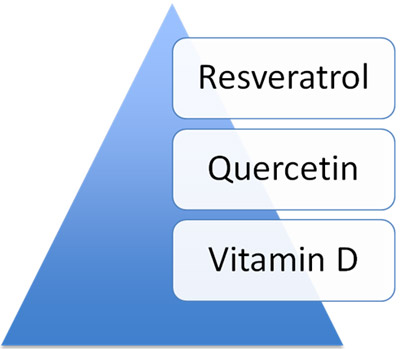 ANTI-INFLAMMATORY PYRAMID